The Christmas Truce [Commemorative Sheet] Stamps
These Royal Mail stamps were affixed to specially designed envelopes and postmarked on the first day that the stamps were issued.
11.11.2014 | British and German Troops Fraternise, Postmarked at Alrewas, Lichfield
BUY NOW   €305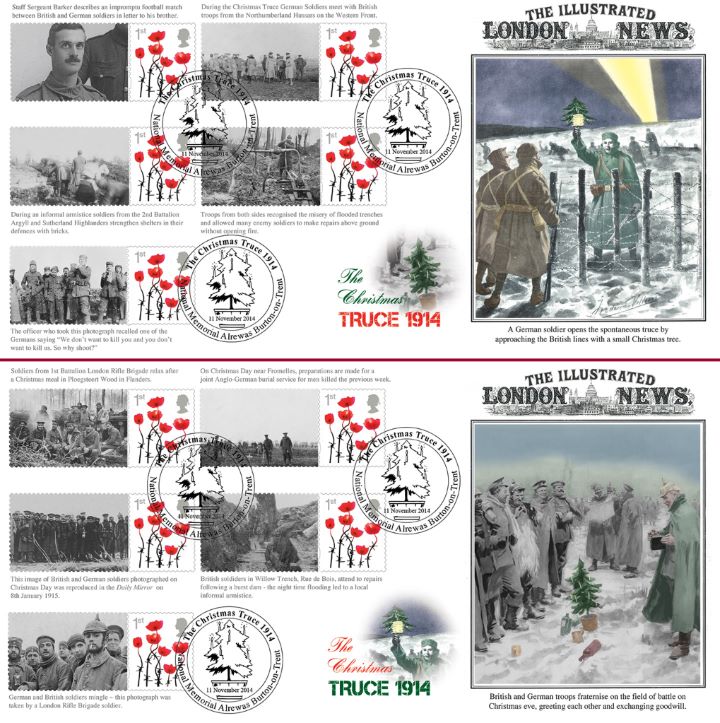 Click on image for larger view
Stamp Details:

1st Poppy plus Christmas Truce labels

Limited Edition:

100 copies Worldwide.

Notes:

These covers are hand made from the finest quality linen textured paper. The Christmas Truce is seen as a symbolic moment of peace and humanity amidst one of the most violent events in modern history. The stamps and added text explores the events that led to the truce, the activities - decorating the trenches with candles, carol singing, exchanging of gifts and the games of football. The 1914 Christmas Truce began on Christmas Eve along the British and German lines around Ypres, Belgium.
The impulse to celebrate the holiday season has been traced to several theories. Among these was the fact that the war was only four months old and the level of animosity between the ranks was not as high as it would be later. This was complimented by sense of shared discomfort as the early trenches lacked amenities and were prone to flooding. Also, the landscape, aside from the newly dug trenches, still appeared relatively normal, with fields and intact villages all of which contributed to a degree of civilization to the proceedings.
The initial force behind the truce came from Germany and in most cases began with carol singing and the appearance of Christmas trees along the trenches. Allied troops began to join in which led to both sides reaching out to communicate. From these contacts informal ceasefires were arranged. As some lines were only 30-70 yards apart, some fraternization had taken place prior to Christmas, but never on a large scale.


Reference Images:
Commemorative Sheet
Postmark illustrations

Why not take a look at other items on a similar theme?