Prime Ministers Stamps
These Royal Mail stamps were affixed to specially designed envelopes and postmarked on the first day that the stamps were issued.
14.10.2014 | Margaret Thatcher, Postmarked at Grantham
BUY NOW   £75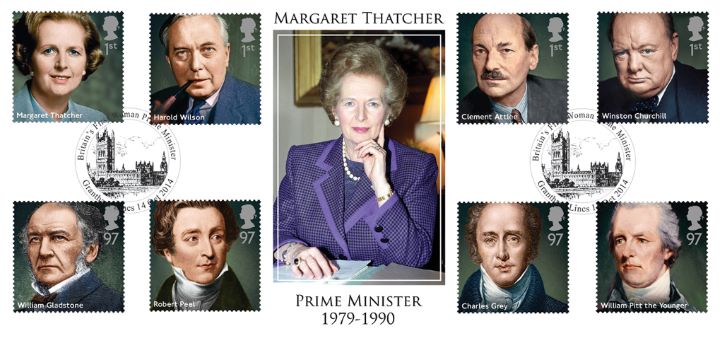 Click on image for larger view
Stamp Details:

1st Harold Wilson
1st Clement Attlee
1st Winston Churchill
97p William Gladstone
97p Robert Peel
97p Charles Grey
97p William Pitt the Younger


Limited Edition:

100 copies Worldwide.

Notes:

These covers are hand made from the finest quality linen textured paper. As the Head of Her Majesty's Government the modern Prime Minister leads both the Cabinet and a major political party that usually commands a majority in the House of Commons. The office of Prime Minister's origins lie in the early 18th century when the office of First Lord of the Treasury was established by King George. The term 'Prime Minister' was originally a term of abuse, suggesting that the holder had risen above
other ministers improperly. It was around 1805 that the term was starting to be used to reflect the role we recognize. Robert Walpole is generally regarded as being the first to hold the post although that description was not official at the time. There have been 53 Prime Ministers in total, averaging five and a half years in office.


In Stock

Reference Images:
Commemorative Stamp
Presentation Pack (503)
PHQCards (394)
Postmark illustrations

Why not take a look at other items on a similar theme?