Flying Scotsman Stamps
30.11.2014 | UK World Steam Record 100mph, Postmarked at Leeds
BUY NOW   £60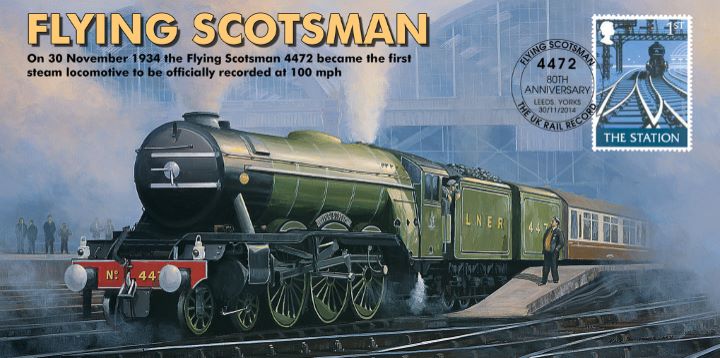 Click on image for larger view
30th November

2014

- Flying Scotsman

Limited Edition:

50 copies Worldwide.

Notes:

These covers are hand made from the finest quality linen textured paper. The LNER Class A3 Pacific steam locomotive No. 4472 Flying Scotsman was built in 1923 for the London and North Eastern Railway (LNER) at Doncaster Works to a design of H.N. Gresley. It was employed on long-distance express trains on the LNER and its successors, British Railways Eastern and North-Eastern Regions, notably on the 10am London to Edinburgh Flying Scotsman train service after which it was named. The locomotive is notable for having set two world records for steam traction; becoming the first steam locomotive to be officially authenticated at reaching 100 miles per hour (160.9 km/h) on 30 November 1934, and then setting a record for the longest non-stop run by a steam locomotive when it ran 422 miles (679 km) on 8 August 1989 while in Australia. Retired from regular service in 1963 after covering 2,076,000 miles (3,341,000 km),Flying Scotsman gained considerable fame in preservation under the ownership of Alan Pegler, William McAlpine, Tony Marchington and finally the National Railway Museum. As well as hauling enthusiast specials in the United Kingdom, the locomotive toured extensively in the United States (from 1969 to 1973) and Australia (from 1988 to 1989). Flying Scotsman has been described as the world's most famous steam locomotive.



Why not take a look at other items on a similar theme?