Inventive Britain Stamps
These Royal Mail stamps were affixed to specially designed envelopes and postmarked on the first day that the stamps were issued.
19.02.2015 | World Wide Web, Postmarked at Birmingham
BUY NOW   £40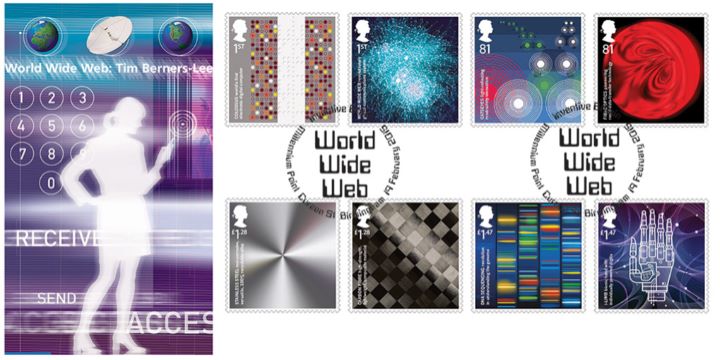 Click on image for larger view
Stamp Details:

1st World Wide Web
81p Cat's Eyes:
81p Fibre Optics
£1.28 Stainless Steel
£1.28 Carbon Fibre
£1.47 DNA Sequencing
£1.47 i-Limb – advanced prosthetic limb


Limited Edition:

60 copies Worldwide.

Notes:

These covers are hand made from the finest quality linen textured paper. The United Kingdom has a long and rich history as an inventive nation. The Inventive Britain stamp issue celebrates this vital and creative aspect of the national character with eight key inventions of the past century in a range of disciplines and applications, from materials to medicine. From the splitting of the atom to the discovery of penicillin to the jet engine and in vitro fertilisation, Britain's creative and resourceful spirit has not been bound by any particular field, crossing the breadth of science and technology, engineering and medicine. The eight inventions featured on the stamps, from the mighty Colossus to super-strong carbon fibres, comprise only a handful of the transformative great British inventions from the 20th and 21st centuries.




In Stock

Reference Images:
Commemorative Stamp
Presentation Pack (507)
PHQCards (397)
Postmark illustrations

Why not take a look at other items on a similar theme?