Long to Reign Over Us: Miniature Sheet Stamps
These Royal Mail stamps were affixed to specially designed envelopes and postmarked on the first day that the stamps were issued.
09.09.2015 | Double Dated Covers - Set, Postmarked at London
BUY NOW   £89.75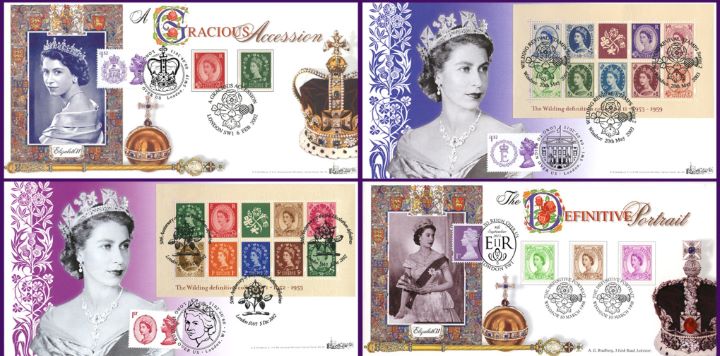 Click on image for larger view
Stamp Details:

1st Queen Elizabeth Wilding Portrait
1st Machin new mauve colour
£1.52 The Windsor Crest
£1.52 Queen's Personal Emblem


Notes:

These 'double-dated' covers were all issued between 1998 and 2003. Royal Mail had embarked on a series of issues which reproduced the first stamps issued by the Post Office to feature our Queen. These old stamps (issued 1952-53) were redesigned with decimal values.
To these covers I have added one of the new 'Long to Reign Over Us' stamps which have been franked with one of the new postmarks for the 'Long to Reign Over Us' issue of 9th Sept 2015. These new Royal Mail stamps commemorates the historic landmark of Her Majesty Queen Elizabeth II becoming the longest reigning UK monarch, with Queen Victoria's reign of 63 years and 216 days being exceeded by The Queen on 9th September 2015.


In Stock

Reference Images:
Miniature Sheet
Presentation Pack (516)
PHQCards (406)
Postmark illustrations

Why not take a look at other items on a similar theme?