Magna Carta Stamps
These Royal Mail stamps were affixed to specially designed envelopes and postmarked on the first day that the stamps were issued.
02.06.2015 | Magna Carta Double Dated No.10, Postmarked at Runnymede
BUY NOW   £60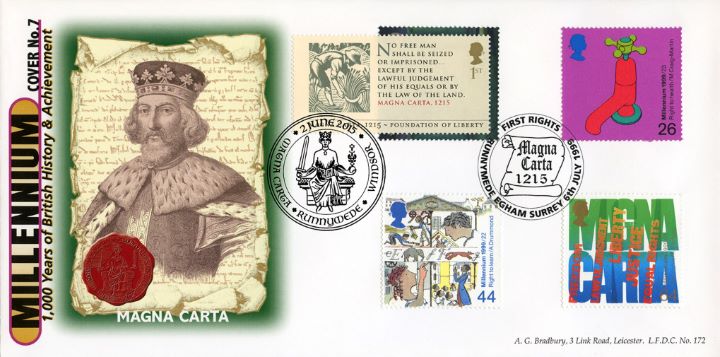 Click on image for larger view
Stamp Details:

1st Simon DeMontfort's Parliament
£1.33 Bill of Rights
£1.33 American Bill of Rights
£1.52 Universal Declaration of Human Rights
£1.52 Charter of the Commonwealth


Notes:

These fantastic covers were first issued in 1999 as part of the Millennium Series of Royal Mail stamps - one of which celebrated Citizens' Rights, including First Rights, i.e. the Magna Carta. I only have a few of these covers remaining, to which I have added the new Magna Carta postage stamp which is postmarked at Runnymede, and was the original issue in 1999.




Reference Images:
Commemorative Stamp
Presentation Pack (512)
PHQCards (402)
Postmark illustrations

Why not take a look at other items on a similar theme?