H M The Queen's 90th Birthday Stamps
These Royal Mail stamps were affixed to specially designed envelopes and postmarked on the first day that the stamps were issued.
21.04.2016 | Princess Elizabeth with King George VI, Postmarked at Windsor Castle
BUY NOW   £60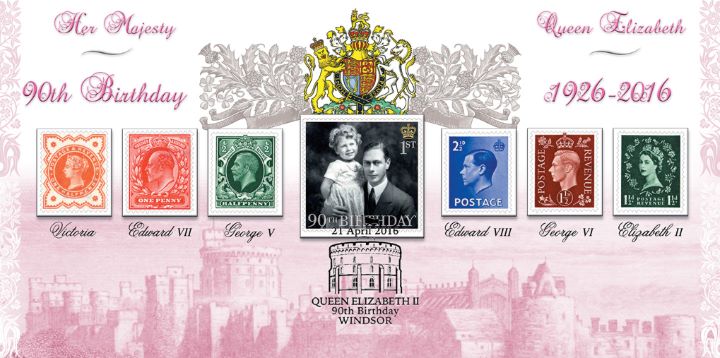 Click on image for larger view
Stamp Details:

1st Attends the State Opening of Parliament
1st With Princess Anne and Prince Charles
£1.52 Visits New Zealand
£1.52 With The Duke of Edinburgh
£1.52 With Nelson Mandela


Limited Edition:

200 copies Worldwide.

Notes:

These covers bear six stamps of varying ages from 60 to over 100 years old. These are genuine mint stamps affixed to the envelope from the reigns of Queen Victoria, King Edward VII, King George V, King Edward VIII, King George VI and an early definitive stamp featuring our Queen Elizabeth. The new stamp in the centre shows our queen when a very young princess with her father. For most royalty issues I have produced similar covers with stamps from the six reigns and they have always proved very popular. These covers are hand made from the finest quality linen textured paper.




Each cover is numbered on the reverse as a worldwide limited edition of just 200 copies.

In Stock

Reference Images:
Commemorative Stamp
Presentation Pack (525)
PHQCards (414)
Postmark illustrations

Why not take a look at other items on a similar theme?