Shackleton and the Endurance Expedition Stamps
These Royal Mail stamps were affixed to specially designed envelopes and postmarked on the first day that the stamps were issued.
07.01.2016 | Endurance stuck in ice, Postmarked at Plymouth
BUY NOW   $81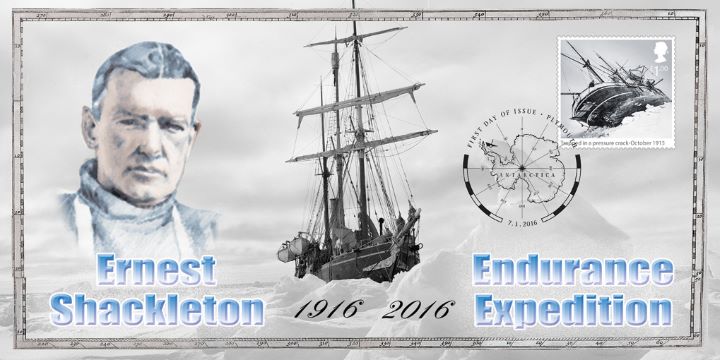 Click on image for larger view
Stamp Details:

1st Class Endurance frozen in pack ice
£1 Striving to free Endurance
£1 Trapped in a pressure crack
£1.33 Patience Camp
£1.33 Safe arrival at Elephant Island
£1.52 Setting out for South Georgia
£1.52 Rescue of Endurance crew


Limited Edition:

100 copies Worldwide.

Notes:

Described as 'The Greatest Survival Story of All Time' by Sir Edmund Hillary, the Imperial Trans-Antarctic Expedition led by Ernest Shackleton is regarded as the last of the heroic expeditions of the polar regions. During an attempt to be the first to cross Antarctica, Shackleton and his crew were 80 miles from their destination when their vessel, Endurance, became stuck in sea ice and after four months was crushed. All 28 men were left stranded, drifting on the ice for another six months, having dragged three boats and provisions from the ship. As the ice started to break up, Shackleton ordered the boats to set sail to find the uninhabited Elephant Island, which they eventually reached. With no hope of rescue, Shackleton modified one of the boats with an improvised mast and sail and selected five of his crew. They navigated 800 miles of notoriously treacherous Southern Ocean to find South Georgia (the most remote outpost of the British Empire). Despite appalling cold, they eventually landed on South Georgia, after one of the most celebrated feats of navigation of all time. However, they landed on the uninhabited south side of the island. A final 36-hour non-stop trek across glaciers and mountains led Shackleton to the nearest human outpost. He reached this whaling station almost one year after they left the ice. He then organised expeditions to rescue the remainder of his crew, which occurred in 1916. The voyage, which was recorded by pioneering photographer Frank Hurley, made Shackleton one of the most celebrated sailors and leaders of all time. Hurley's photography is regarded as ground-breaking, and the stamp issue uses these to tell the chronological story of the voyage, survival and rescue.




In Stock

Reference Images:
Commemorative Stamp
Presentation Pack (521)
PHQCards (410)
Postmark illustrations

Why not take a look at other items on a similar theme?