City of Leicester Celebrates Stamps
15.05.2016 | Football Achievement, Postmarked at Leicester
BUY NOW   £25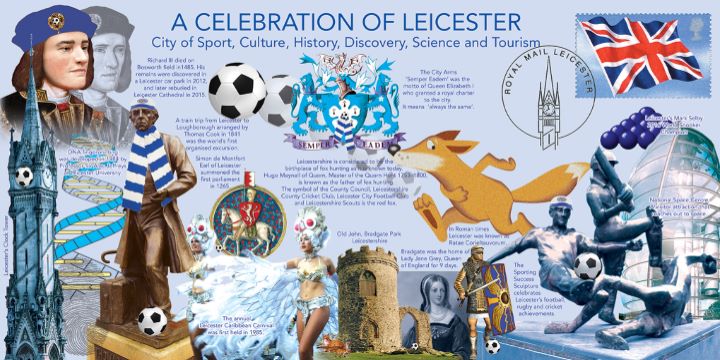 Click on image for larger view
15th May

2016

- City of Leicester Celebrates

Notes:

Last year Leicester held the world's centre stage when King Richard III was re-buried in Leicester Cathedral. This year the city holds centre stage again with our incredible football team's achievements.

I was born in Leicester in 1947 and have lived all of my life in Leicester. After leaving the City Treasurer's Department in 1980 I started my own first day cover business. In those early years, all of my covers related to local events and societies. Whilst I have never been much of a sports fan, I have always felt very proud of my city of birth. Like many I feel that Leicester City's success goes far beyond football - all of Leicester is buzzing with excitement, fans and non fans alike. It is for that reason that I have designed the above souvenir first day cover.

This bears a special Union Jack 1st Class postage stamp.
The stamps are franked with the special Royal Mail Leicester postmark depicting the clock tower. This Leicester Royal Mail postmark is only used for special events and anniversaries.

The cover features the following:

Richard III died on Bosworth field in1485. His remains were discovered in a Leicester car park in 2012, and later reburied in Leicester Cathedral in 2015.

DNA fingerprinting was developed in 1984 by Professor Sir Alec Jeffreys at Leicester University.

Leicester's Clock Tower.

A train trip from Leicester to Loughborough arranged by
Thomas Cook in 1841 was the world's first
organised excursion.

Simon de Montfort Earl of Leicester summoned the first parliament in 1265.

The annual Leicester Caribbean Carnival
was first held in 1985.

Leicestershire is considered to be the birthplace of fox hunting as it is known today. Hugo Meynell of Quorn, Master of the Quorn Hunt 1753–1800, is known as the father of fox hunting.
The symbol of the County Council, Leicestershire County Cricket Club, Leicester City Football Club and Leicestershire Scouts is the red fox.

Old John, Bradgate Park Leicestershire. Bradgate was the home of Lady Jane Grey, Queen of England for 9 days.

In Roman times Leicester was known as Ratae Corieltauvorum.

The Sporting Success Sculpture celebrates Leicester's football, rugby and cricket achievements.

National Space Centre. A visitor attraction that reaches out to space.

Leicester's Mark Selby 2016 World Snooker Chamption.

The City Arms 'Semper Eadem' was the motto of Queen Elizabeth I who granted a royal charter to the city. It means 'always the same'
These covers are hand made from the finest quality linen textured paper.



Congratulations to Leicester City - A Celebration for our wonderful city - A dream come true - A fairy tale ending - Real 'Roy of the Rovers' stuff! - MY HOME CITY

In Stock

Available in the Leicester offer.
Why not take a look at other items on a similar theme?