Ancient Britain Stamps
These Royal Mail stamps were affixed to specially designed envelopes and postmarked on the first day that the stamps were issued.
17.01.2017 | Homo neanderthalensis hunting - pair of covers, Postmarked at Birmingham
BUY NOW   £75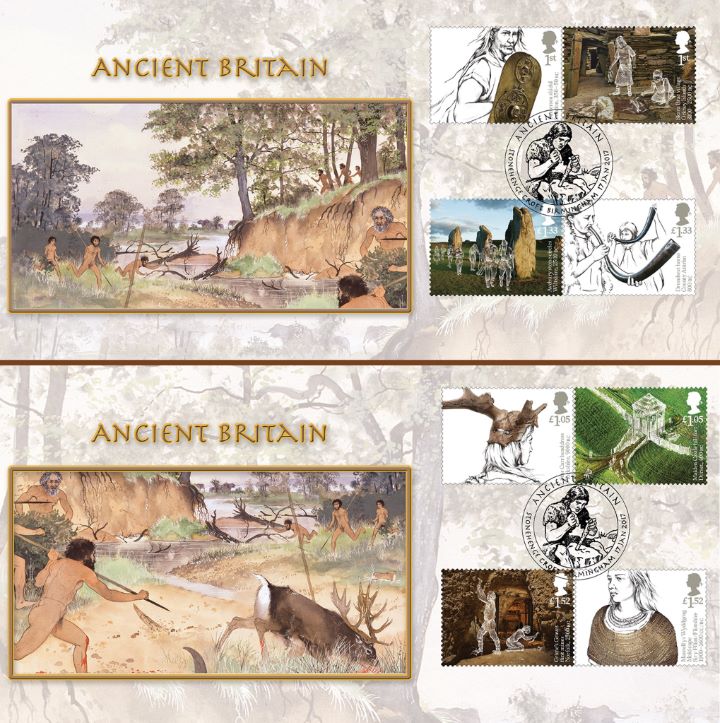 Click on image for larger view
Stamp Details:

1st Skara Brae Neolithic village
£1.05 Star Carr head-dress
£1.05 Maiden Castle Hill Fort
£1.33 Avebury Stone Circle
£1.33 Drumbest Horns
£1.52 Grime's Graves Flint Mines
£1.52 Mold Cape


Limited Edition:

50 copies Worldwide.

Notes:

Images on covers show homo neanderthalensis hunting at Swanscombe. The Illustrations are by Maurice Wilson of a deer hunt on the banks of a river at Swanscombe, England, 400,000 years ago (Lower Palaeolithic). A wooden spear has brought down a specimen of the extinct Clacton fallow deer. These covers are hand made from the finest quality linen textured paper.




In Stock

Reference Images:
Commemorative Stamp
Presentation Pack (536)
PHQCards (424)
Postmark illustrations

Why not take a look at other items on a similar theme?