Travelling Post Office Stamps
These Royal Mail stamps were affixed to specially designed envelopes and postmarked on the first day that the stamps were issued.
15.02.2017 | East Anglian TPO, Postmarked at Birmingham
BUY NOW   £19.75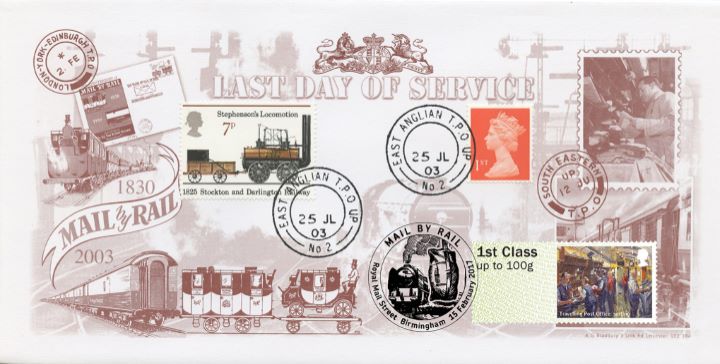 Click on image for larger view
Stamp Details:

1st Post Office undergound railway
1st Night Mail film poster
1st Loading mail
1st Sorting carriage
1st On the move


Limited Edition:

15 copies Worldwide.

Notes:

Royal Mail ceased operating the travelling post office in two phases: five regions on 8th/9th January 2004 and another three regions, the year before, on 25th July 2003. At the time, I arranged to get a number of covers postmarked on each of the TPOs operating on the last days. To these covers I have added a new Travelling Post Office Post & Go stamp issued on 15th February 2017. NB In a few cases the stamps may vary to the ones shown. There are eight different designs and original postmarks. See the special offers page to get the set of 8 covers for half price!

In Stock

Reference Images:
Post and Go Stamp
Presentation Pack (P&G 25)
Postmark illustrations

Available in the night-mail offer.
Why not take a look at other items on a similar theme?