Travelling Post Office Stamps
Commemorative stamp cards (A4 in size) are printed digitally on high quality card and look stunning. Each has a stamp (from a new set) franked with a special Royal Mail postmark. They fit into the 'Smilers' albums and are also printed on the reverse with lots of information about the issue. Just so there is no misunderstanding, there is only one actual stamp affixed, the rest are printed on one or two sides.
15.02.2017 | The Night Mail, Postmarked at Hemel Hempstead
BUY NOW   £22.50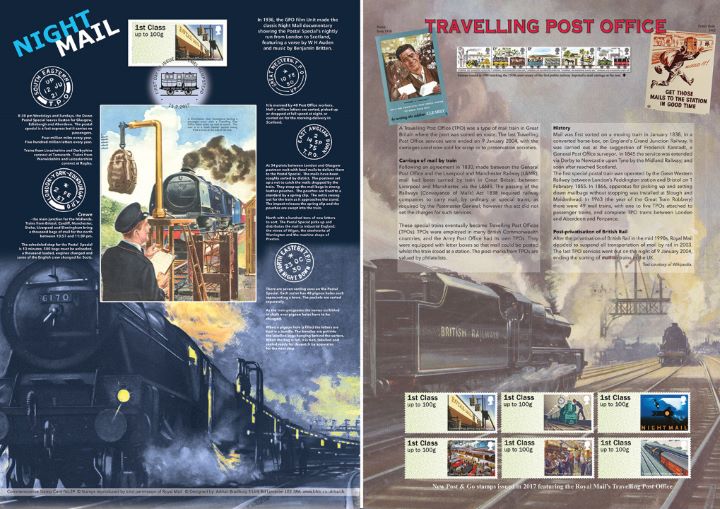 Click on image for larger view
Stamp Details:

1st Post Office undergound railway
1st Night Mail film poster
1st Loading mail
1st Sorting carriage
1st On the move


Limited Edition:

150 copies Worldwide.

Notes:

From humble beginnings, the UK's railways have proved to be an efficient form of mail transportation for more than 180 years. The Liverpool & Manchester Railway opened in September 1830 and it was just two months later, on 11 November, which the first few mail bags were carried on this railway. Over the following decades, an upsurge in the use of mail trains would arise. In 1927, a special underground mail service, the Post Office (London) Railway, was introduced, which conveyed post between Liverpool Street and Paddington stations, thus avoiding the growing congestion on the capital's streets.
By the 1970s, three-quarters of letters were carried by rail at some stage of their journey. Changes in mail circulation in the 1980s saw many letters transferred to road or air. By 2003, a total of 16 Travelling Post Offices remained, with the last running on the night of 9 January 2004. More recently, mail transported by rail is carried within sealed Royal Mail carriages. Please note that the only actual stamp on the card is the one postmarked at the top of the front surrounded by a border. Other stamps appearing on the front and/or reverse are printed on the card.

In Stock

Reference Images:
Post and Go Stamp
Presentation Pack (P&G 25)
Postmark illustrations

Why not take a look at other items on a similar theme?