Windsor Castle Stamps
Commemorative stamp cards (A4 in size) are printed digitally on high quality card and look stunning. Each has a stamp (from a new set) franked with a special Royal Mail postmark. They fit into the 'Smilers' albums and are also printed on the reverse with lots of information about the issue. Just so there is no misunderstanding, there is only one actual stamp affixed, the rest are printed on one or two sides.
15.02.2017 | Brief History of Windsor Castle, Postmarked at Windsor
BUY NOW   £25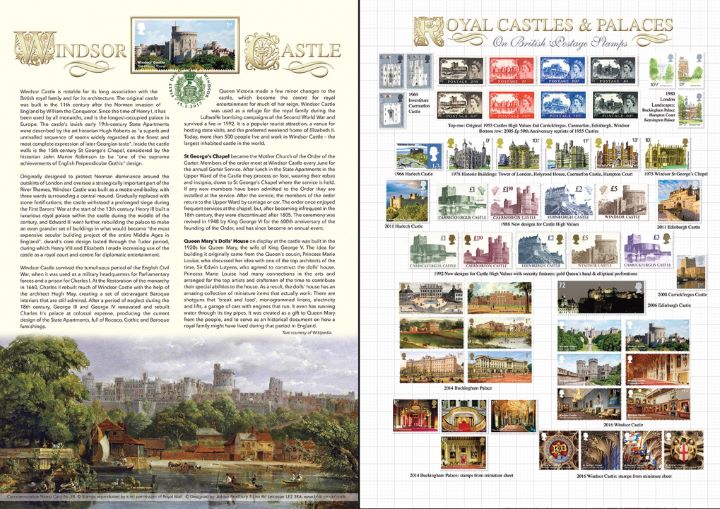 Click on image for larger view
Stamp Details:

1st Round Tower
1st The Norman Gate
£1.52 St George's Hall
£1.52 The Queen's Ballroom
£1.52 The Waterloo Chamber


Limited Edition:

150 copies Worldwide.

Notes:

Founded by William the Conqueror in around 1080, Windsor Castle is the oldest inhabited castle in the world, and The Queen's home. This photographic celebration explores iconic views and some of the sumptuous interiors. 2017 also marks the 25th anniversary of the devastating fire, which was the spur to the extraordinary rebuilding and refurbishment that almost 1m visitors a year enjoy. The fire at Windsor broke out in the morning of 20 November 1992 and was finally extinguished fifteen hours later. One hundred and fifteen rooms were destroyed or very badly damaged by the fire and over a million gallons of water were pumped into the fabric of the building. The process of clearing, drying out, rebuilding and redecorating the damaged structure was completed exactly five years later. Please note that the only actual stamp on the card is the one postmarked at the top of the front surrounded by a border. Other stamps appearing on the front and/or reverse are printed on the card.

In Stock

Reference Images:
Commemorative Stamp
Presentation Pack (537)
PHQCards (425)
Postmark illustrations

Why not take a look at other items on a similar theme?