Windsor Castle: Miniature Sheet Stamps
These Royal Mail stamps were affixed to specially designed envelopes and postmarked on the first day that the stamps were issued.
15.02.2017 | Edward III, Postmarked at Windsor Castle
BUY NOW   £65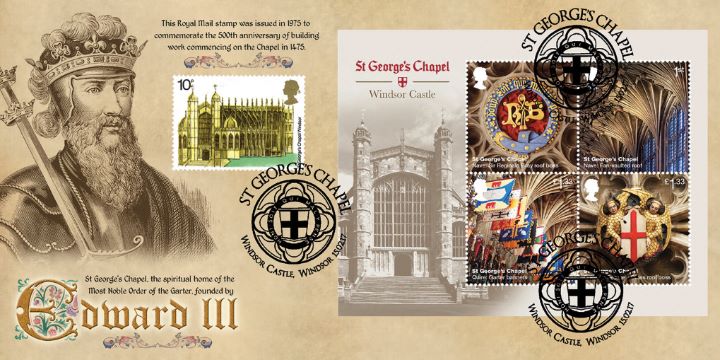 Click on image for larger view
Stamp Details:

1st The Sir Reginald Bray Roof Boss
1st Fan-vaulted roof
£1.33 Garter banners
£1.33 St George's Cross roof boss


Limited Edition:

25 copies Worldwide.

Notes:

These covers are hand made from the finest quality linen textured paper.




St George's Chapel is the spiritual home of The Most Noble Order of the Garter which was founded by Richard III. Each cover has an additional postage stamp issued in 1975 featuring St. George's Chapel. This Royal Mail stamp was originally issued to mark the 500th anniversary of building work commencing on the Chapel in 1475.

In Stock

Reference Images:
Miniature Sheet
PHQCards (425)
Postmark illustrations

Why not take a look at other items on a similar theme?