Windsor Castle: Miniature Sheet Stamps
These Royal Mail stamps were affixed to specially designed envelopes and postmarked on the first day that the stamps were issued.
15.02.2017 | Windsor Castle & Coat of Arms, Postmarked at Windsor
BUY NOW   £60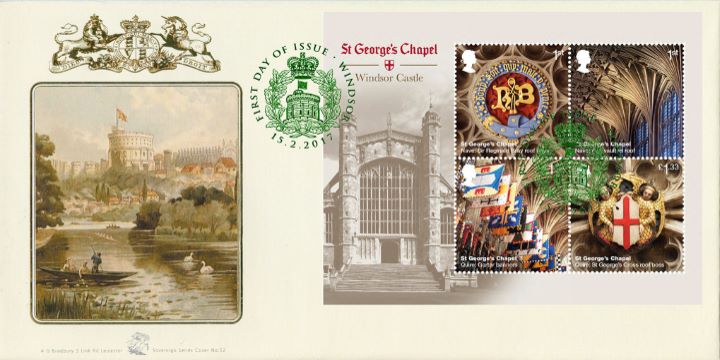 Click on image for larger view
Stamp Details:

1st The Sir Reginald Bray Roof Boss
1st Fan-vaulted roof
£1.33 Garter banners
£1.33 St George's Cross roof boss


Limited Edition:

100 copies Worldwide.

Notes:

A Victorian version of the Royal Coat Arms is depicted in gold foil above the Victorian watercolour of Windsor Castle. This miniature sheet of four stamps explores St George's Chapel, the spiritual home of the Order of the Garter, Britain's senior Order of Chivalry founded by Edward III. Building began within the Castle in 1475 and Henry VII completed the nave and extraordinary stone vaulted ceiling. Finally Henry VIII completed building work by 1528. The architecture is renowned as among the finest examples of Gothic in the UK – the late medieval style of English architecture.

In Stock

Reference Images:
Miniature Sheet
PHQCards (425)
Postmark illustrations

Why not take a look at other items on a similar theme?