The Sinking of the Scharnorst Stamps
To be issued on 26.12.2018 | 75th Anniversary, Postmarked at London SW1
PRE-ORDER   £14.75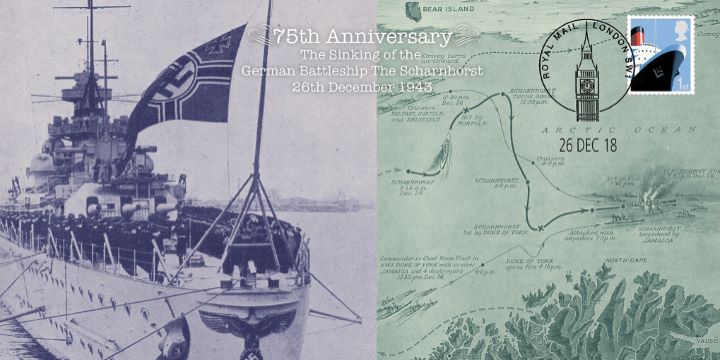 FREE Delivery on pre orders!
Click on image for larger view
26th December

2018

- The Sinking of the Scharnorst - Now available for pre-order.

Limited Edition:

50 copies Worldwide.

Notes:

The Battle of the North Cape was a Second World War naval battle which occurred on 26 December 1943, as part of the Arctic Campaign. The German battleship Scharnhorst, on an operation to attack Arctic Convoys of war material from the Western Allies to the USSR, was brought to battle and sunk by Royal Navy.
Why not take a look at other items on a similar theme?