The Great War Stamps
These Royal Mail stamps were affixed to specially designed envelopes and postmarked on the first day that the stamps were issued.
13.09.2018 | QUINTUPLE stamps and postmarks, Postmarked at Various
BUY NOW   €73.20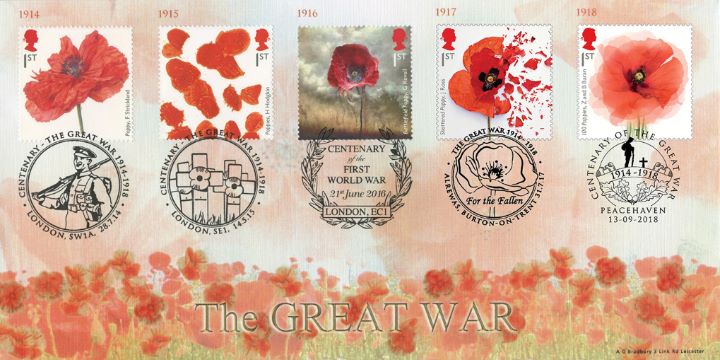 Click on image for larger view
Stamp Details:

1st Poetry
1st Portrait
£1.55 War Art
£1.55 War Memorial
£1.55 Artefacts


Limited Edition:

200 copies Worldwide.

Notes:

This is a truly AMAZING cover with a different poppy stamp and different postmark for each centenary year of the Great War, i.e. 2014, 2015, 2016, 2017 and 2018. This is the first time that Royal Mail have officially agreed to applying more than two different postmarks to a cover. (The only other example was in 1981 when a few Royal Wedding covers had three different postmarks applied).

In Stock

Reference Images:
Commemorative Stamp
Presentation Pack (561)
PHQCards (448)
Postmark illustrations

Why not take a look at other items on a similar theme?