D-Day Stamps
These Royal Mail stamps were affixed to specially designed envelopes and postmarked on the first day that the stamps were issued.
06.06.2019 | 50th/75th Anniversaries Double Dated, Postmarked at Portsmouth
BUY NOW   £37.50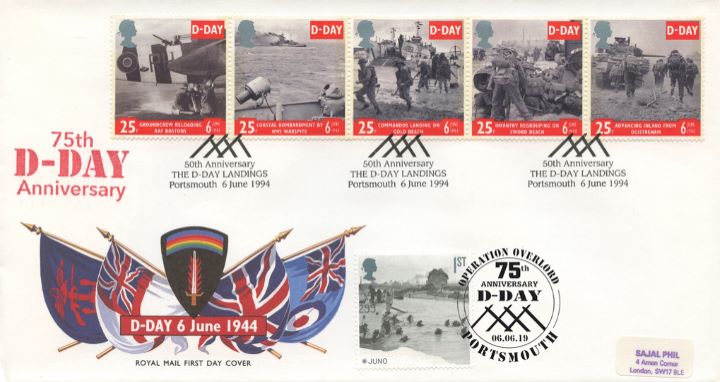 Click on image for larger view
Stamp Details:

1st HMS Warspite
£1.35 Paratroopers
£1.35 Commandos
£1.60 Light Bomber
£1.60 Troops East Yorks Regiment


Notes:

Superb 1994 D-Day cover marking the 50th Anniversary with additional 2019 D-Day 75th Anniversary stamp. NB Please be aware: All the covers are 'one-offs', i.e. the postmark combinations are all different. The 2019 stamps are also mostly different to the ones shown and could be from the stamp set or the miniature sheet.

In Stock

Reference Images:
Commemorative Stamp
Presentation Pack (572)
PHQCards (458)
Postmark illustrations

Why not take a look at other items on a similar theme?