Royal Navy Ships Stamps
These new Royal Mail stamps will be affixed to specially designed envelopes and then postmarked on the first day of issue.
To be issued on 19.09.2019 | Nelson's Flagships, Postmarked at Portsmouth
PRE-ORDER   £19.75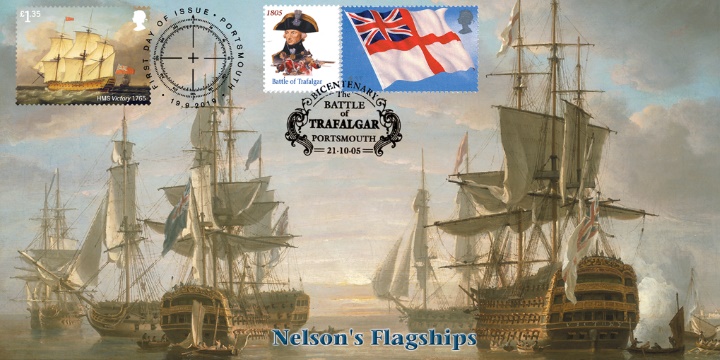 FREE Delivery on pre orders!
Click on image for larger view
Stamp Details:

1st Class HMS Queen Elizabeth
£1.35 HMS Victory
£1.35 HMS Dreadnought
£1.55 HMS Warrior
£1.55 Sovereign of the Seas
£1.60 HMS King George V
£1.60 HMS Beagle


Limited Edition:

30 copies Worldwide.

Notes:

Suuperb double dated cover - franked on the bicentenary of the Battle of Trafalgar 21st October 2005 and the day of issue of the new Royal Navy Ships stamp issue.

Reference Images:
Commemorative Stamp
Presentation Pack (576)
PHQCards (462)

Why not take a look at other items on a similar theme?