Nancy Astor Stamps
To be issued on 01.12.2019 | First female Member of Parliament, Postmarked at London SW1
PRE-ORDER   £17.50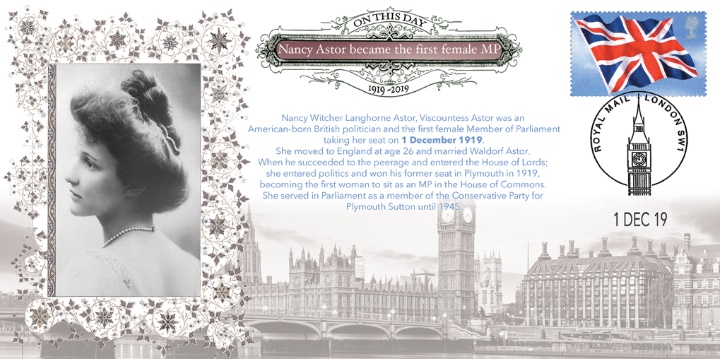 FREE Delivery on pre orders!
Click on image for larger view
1st December

2019

- Nancy Astor - Now available for pre-order.

Limited Edition:

50 copies Worldwide.

Notes:

Nancy Witcher Langhorne Astor, Viscountess Astor was an American-born British politician and the first female Member of Parliament to take her seat on 1 December 1919. She moved to England at age 26 and married Waldorf Astor. When he succeeded to the peerage and entered the House of Lords; she entered politics and won his former seat in Plymouth in 1919, becoming the first woman to sit as an MP in the House of Commons. She served in Parliament as a member of the Conservative Party for Plymouth Sutton until 1945
Why not take a look at other items on a similar theme?