Queen Stamps
These Royal Mail stamps were affixed to specially designed envelopes and postmarked on the first day that the stamps were issued.
09.07.2020 | Stamp Sheet Header, Postmarked at Tallents House
BUY NOW   £25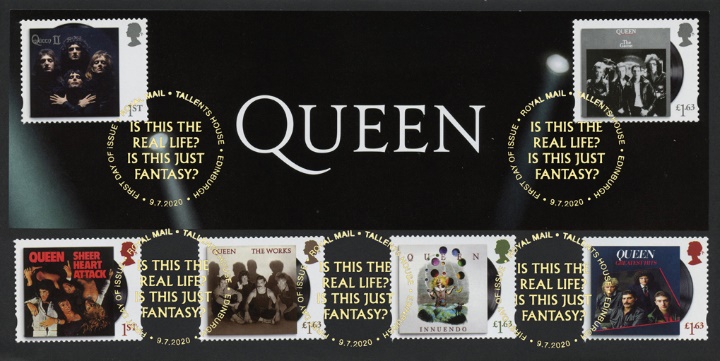 Click on image for larger view
Stamp Details:

1st Sheer Heart Attack
1st A Night at the Opera
1st News of the World
£1.63 The Game
£1.63 Greatest Hits
£1.63 The Works
£1.63 Innuendo


Notes:

Virtually all covers for this issue, i.e. with the set of eight album cover designs, including Royal Mail's own covers, will be with GUMMED stamps. These covers have the SELF ADHESIVE stamps with the elliptical perfs - and thus VERY RARE. I have purposely mounted these on black envelopes so that the perforations are prominent. This cover also includes the QUEEN sheet header

Reference Images:
Commemorative Stamp
Presentation Pack (588)
PHQCards (473)
Postmark illustrations

Why not take a look at other items on a similar theme?