Roman Britain Stamps
These Royal Mail stamps were affixed to specially designed envelopes and postmarked on the first day that the stamps were issued.
18.06.2020 | Roman Discourse - Sothebys, Postmarked at Colchester
BUY NOW   £9.75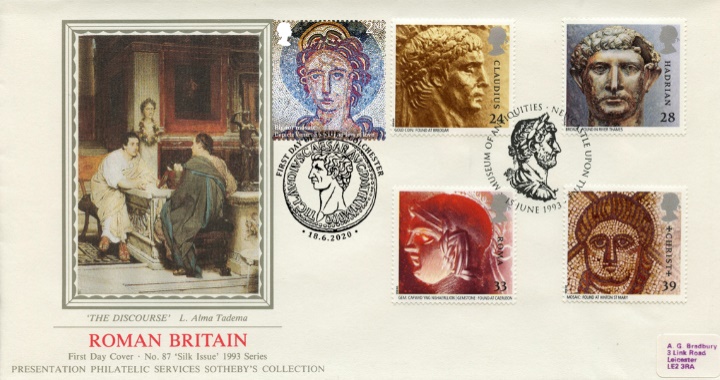 Click on image for larger view
Stamp Details:

2nd Bignor Mosaic
1st Amphitheatre Isca Fortress
1st Ribchester Helmet
£1.63 Bridgeness Distance Slab
£1.63 Warrior God, Cambridgeshire
£1.68 Gorgons Head Bath
£1.68 Hadrians Wall


Notes:

Originally issued in 1993 this cover features a painting title 'The Discourse' sold by Sotheby's of London - it has now been double postmarked with the Colchester First Day of Issue postmark and new stamp. NB the original 1993 postmark cancelling the set of four stamps might be different to the one shown.

Reference Images:
Commemorative Stamp
Presentation Pack (587)
PHQCards (472)
Postmark illustrations

Why not take a look at other items on a similar theme?