Sherlock Holmes Stamps
These Royal Mail stamps were affixed to specially designed envelopes and postmarked on the first day that the stamps were issued.
18.08.2020 | Violin and Letter, Postmarked at London
BUY NOW   £19.75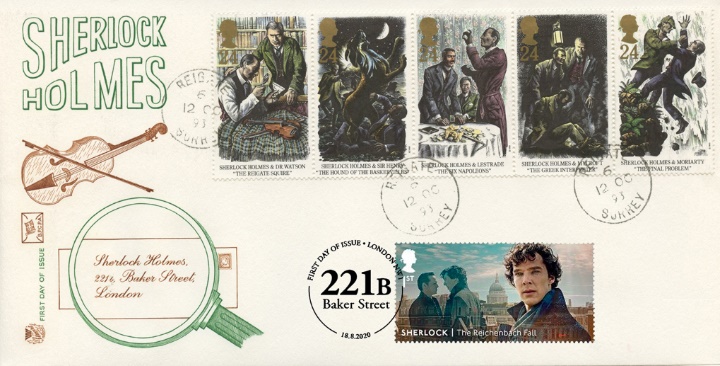 Click on image for larger view
Stamp Details:

1st A Study in Pink
£1.42 The Great Game
£1.42 The Empty Hearse
£1.68 A Scandal in Belgravia
£1.68 The Final Problem


Notes:

Rare double-dated cover with ONLY SEVEN produced. These covers were originally produced in 1993 and have now been double-dated with one of the new Sherlock Holmes stamps and a 221B Baker Street postmark. Please note that the original 1993 postmarks may vary to those shown.

In Stock

Reference Images:
Commemorative Stamp
Presentation Pack (590)
PHQCards (475)

Why not take a look at other items on a similar theme?