VE Day Stamps
These Royal Mail stamps were affixed to specially designed envelopes and postmarked on the first day that the stamps were issued.
08.05.2020 | Fabulous Double Dated Cover 60th and 75th, Postmarked at London WC
BUY NOW   £35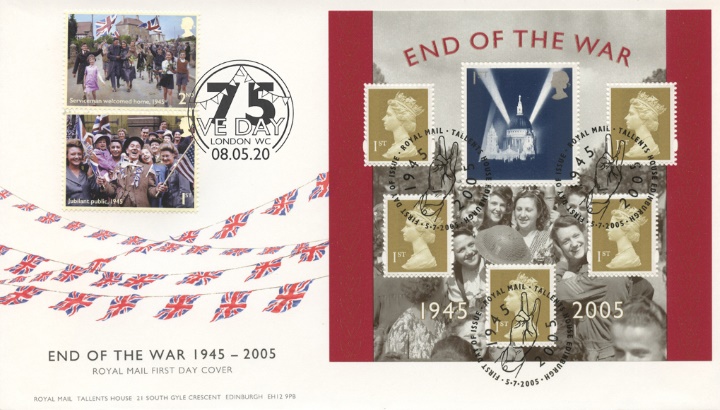 Click on image for larger view
Stamp Details:

2nd Jubilant nurses in Liverpool
1st Ecstatic crowds in Piccadilly
1st Evacuees return from Leicester
£1.42 Victory over Japan in London
£1.42 Demobilisation centre
£1.63 Allied prisoners cheer rescuers
£1.63 A Wren proposes a toast


Notes:

This cover was originally issued in 2005 to mark the 60th anniversary of the end of World War II. These have been double postmarked with the 75th anniversary postmark and stamps. Great item and rare.

Reference Images:
Commemorative Stamp
Presentation Pack (585)
PHQCards (470)
Postmark illustrations

Why not take a look at other items on a similar theme?