VE Day Stamps
These Royal Mail stamps were affixed to specially designed envelopes and postmarked on the first day that the stamps were issued.
08.05.2020 | Kindertransport & Evacuees, Postmarked at London WC
BUY NOW   £24.75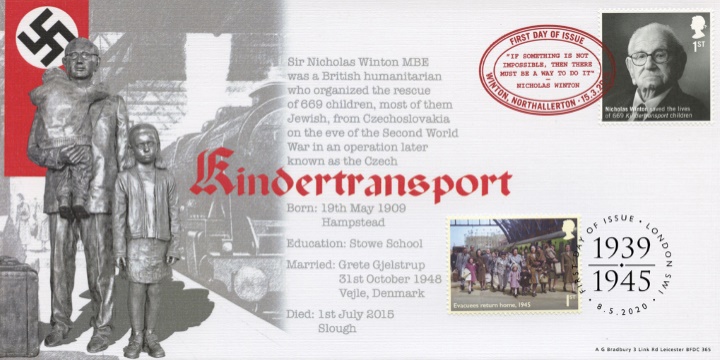 Click on image for larger view
Stamp Details:

2nd Jubilant nurses in Liverpool
1st Ecstatic crowds in Piccadilly
1st Evacuees return from Leicester
£1.42 Victory over Japan in London
£1.42 Demobilisation centre
£1.63 Allied prisoners cheer rescuers
£1.63 A Wren proposes a toast


Notes:

Amazing double-dated cover first issued in 2016 featuring Sir Nicholas Winton MBE, who organized the rescue of 669 children from Czechoslovakia on the eve of the Second World War. Double-dated with the VE Day stamp showing children evacuees returning home postmarked on the anniversary of the end of the Second World War.

In Stock

Reference Images:
Commemorative Stamp
Presentation Pack (585)
PHQCards (470)
Postmark illustrations

Why not take a look at other items on a similar theme?