King Arthur Stamps
These Royal Mail stamps were affixed to specially designed envelopes and postmarked on the first day that the stamps were issued.
16.03.2021 | Set of 4 Arthurian Legends, Postmarked at Various
BUY NOW   £37.50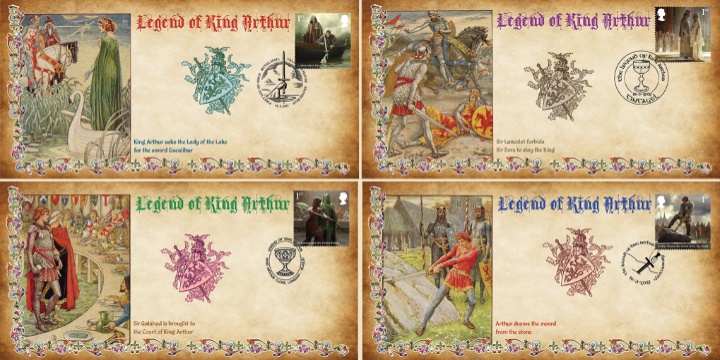 Click on image for larger view
Stamp Details:

1st Arthur and Sword
1st Arthur takes Excalibur
1st Arthur and Guinevere
1st Sir Gawain
£1.70 Round Table
£1.70 Lancelot defeats Dragon
£1.70 Sir Galahad and Holy Grail
£1.70 Arthur and Mordred
£1.70 Death of Arthur


Notes:

Stunning set of four covers depicting (1) King Arthur asks the Lady of the Lake for the sword Excalibur; (2) Sir Lancelot forbids Sir Bors to slay the king; (3) Sir Galahad is brought to the Court of King Arthur; and (4) Arthur draws the sword from the stone.

In Stock

Reference Images:
Commemorative Stamp
Presentation Pack (598)
PHQCards (483)
Postmark illustrations

Why not take a look at other items on a similar theme?