Discount Postage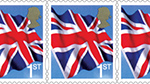 Save on postage costs and amaze your friends with these beautiful Royal Mail 1st Class postage stamps - on sale below face value!
These are not available from normal Post Office outlets.
In most instances each stamp has a label attached of historical interest. These labels can either be left intact on your mail, or detached.
Remember 1st Class stamps will always be worth the value of a 1st Class stamp no matter how much postage rates increase in the future.
These stamps are highly collectible in their own right.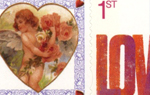 sold out
47340
Love Stamps - SAVE £6
Please Wait.. Loading more results...