Commemorative Stamp Cards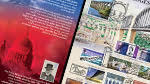 Commemorative stamp cards are a relatively new concept devised and designed by Adrian Bradbury Managing Director of BFDC Ltd.
A sort of 'half way house' between first day covers and business customised stamp sheets, these A4 designs are printed digitally on high quality card and look stunning.
Each has a stamp (from a new set) franked with a special first day of issue postmark.
They are printed on both sides and often show reproductions of earlier stamps relevant to theme of the card issue.

( Page 3 )

43684
(10)
The Great War
, The Gallipoli Campaign

43665
(4)
Heraldic Beasts
, Heraldry on Stamps

43620
(3)
Penny Black: Miniature Sheet
, The Stamps of Queen Victoria

43667
(5)
Anthony Trollope [Commemorative Sheet]
, Bicentenary of Anthony Trollope

43619
(2)
Bridges
, Bridges on Stamps

43618
(1)
Alice in Wonderland
, Alice's Adventures
Please Wait.. Loading more results...