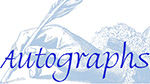 There are hundreds of covers on this website personally autographed by famous people. Most of these have raised substantial sums for various charities and good causes.
You can search for your favourite personality alphabetically by first name or surname.
You might also be interested in our
most popular autographed covers
Select a letter and then choose a person to view the covers they have autographed.
Show results for
last name
, change to
first name
ordering.